Official Portrait of John Cain Jr
Another weakness of the rail enthusiast  community (among many) is a simplified and wrong view of recent history, specifically an inclination to assume Labor governments were kinder to rail transport than they actually were, paired with the belief that Liberal governments are harsher than they were.
It shouldn't need to be said, but this post is not coming from a partisan point of view. This blog never votes Liberal, and would always prefer Labor.
And it can be said there are some very pro-rail Labor governments, and these need to be congratulated when they are found. The current Victorian Andrews Government, the McGowan Government and Gallop-Carpenter and Burke-Dowd-Lawrence before them in WA are good examples. Plenty of others with iffy records, including the Carr-Iemma-Rees-Kenneally string in NSW, or the current Qld government. And don't even get started on the useless Tasmanian Labor Party.
Historically there was also some very bad (for rail) Labor governments, this post on the evils of Cahill and Heffron covers one. Conversely, Milton Morris was an excellent Liberal transport minister at a bad time for rail in NSW history.
John Cain Junior (he was never referred to this way, but his father John Cain had also been Premier of Victoria on-and-off for a decade) was elected in 1982 and retired as Premier in 1990, leaving the job to the Late Joan Kirner, until the end of 1992 when Jeff Kennett of the Liberal Party was elected in a landslide.
As Marcus Wong points out on his blog, the truth about Labor Good/Liberal Bad with rail is more subtle than most rail enthusiasts say. Marcus offers a good defence of Hamer here. 
This blog has always made the point that rail transport is not the victim of 3 year governments of one party or another, or even of a decade-long transition in the economy, as occurs from time to time. Instead, rail transport is the author of its own misery, and this phenomenon has roots that go back not just decades, but well over a century.
Thus to understand how effective a government, Labor or Liberal, is in managing rail transport to the benefit of the community at large, is as much a story of how well they were able to counter this century-long phenomenon of self-inflicted demise.
A blog post long ago, which will be reposted when located, once made the point that Australian rail's demise stemmed from the following simple chain of events.
Financial unviability and mismanagement of the nascent private ventures coupled with political corruption, resulted in state takeover of the ventures
Once in government hands, the private sector was rewarded via "moral hazard" to no longer have to worry about the viability of ventures
In government hands, because the ventures would no longer sink or swim by virtue of economic performance, the mission changed – to 'opening up the country' – read:'bribing rural voters for their votes'.
And once that happened, the viability of new lines no longer mattered at all, and the only requirement for the Commissioners was to balance the budget overall, by overcharging the viable parts of the business to cross-subsidise the rest
The workforce, knowing the management was no longer constrained by viability, made excessive claims and refused reasonable change, that would have improved viability through technological change
The state and federal treasuries, seeing that rail was not a viable state investment, opposed not just new lines and operations, but opposed reasonable upgrades, maintenance and repairs of the existing system, even that caused by the stresses of WWII – it was a capital strike
The systems started a spiral of decline, as good customers left the system the needs of 'bad customers' took precedence. What little funding there was for improvements was often misdirected.
The public as a whole looked at the system dominated by bad customers' needs, and supported those political and bureaucratic actors who pushed road and air alternatives
By the 1970s, the system was a wreck. Sensible and well-meaning people agreed with bad-faith people that could all be ripped up with no consequence.
During this whole chain of events, it really mattered little whether you were Labor or Liberal.
If Liberal, you probably had ties to the truck and bus companies or road builders, or just wanted to see the misdirected rural funding continue.
If Labor, you were in no position to oppose the claims of the unionised workforce, and if anything, were likely to close the rail system wholesale, eg by dropping traffics or closing lines, rather than confront the unions item-by-item over what needed to change. Many railway lines in Australia closed with overstaffed trains and track gangs, inappropriate passenger services or whatever, rather than tackle the issues making these services unviable, but with the goal of retaining them. This post looked at the death of a line in detail.
In this context it is worth looking at Cain and Kirner.
John Cain and the Labor Party had been out of office for a long time. While the Party had regrouped after the toxic 'Split' of the 1950s when the Party had failed to accommodate a hard-left, pro-Communist wing and a far-right Catholic wing under the one umbrella (an event that occurred when Cain's father John was Premier) the road home was a long time coming.
John Cain Sr who suffered the Split between leftists and Catholics
A very long and controversial reign by first Henry Bolte, a caricature of a Liberal-Country Party Premier, was followed by a much softer, but equally long, rule of Rupert (Dick) Hamer. Only with his resignation and the appointment of the uncharismatic Lindsay Thompson to warm the chair, did it appear Labor was finally in with a shot.
Bolte, Hamer and Thompson
In rail terms the Liberal period had spanned the very end of the Operation Phoenix era into a period in which it was clear there would be very little new rail investment, that was not governed by either national initiatives (such as gauge standardisation), or urban growth. The rest would be managed decline.
Lines that closed. Much could have been done to make rail transport more attactive to passengers, but it would have needed to happen decades earlier.
The Liberal Government commissioned inquiries by Bland and Lonie to justify the hatchet job the Treasury and Premier's Departments wanted to do to the railways. This blog maintains they need not have bothered – other jurisdictions around the world also did the same, and many did not need inquiries to justify them.
Section of Bland Report – losses on country passenger trains. See Reports and Resources
Even jurisdictions such as Queensland, that provided some comfort to rail enthusiasts as they rode the rail motors and antiquated mixed trains to Yaraka or Dirranbandi into the 1990s, were merely running late – the butchering of the QR network is not a whole lot different to anywhere else, just 20 years delayed.
QR had scenes like this long after they had disappeared from the rest of Australia. Unknown photo owner.
Victoria had already been closing lines, not just the odd one here or there, but systemically in the 1950s and into the 1960s. Besides the cute but ineffective narrow gauge lines, more significant ones like Whittlesea, Red Hill, Lancefield, Bendigo via Heathcote, had started disappearing and this just seemed to be business as usual. However, the government was able to gauge the popular resistance to closures and commissioned the reports.
The anti-rail tone of the Bland Report (1969-70) and the Lonie Report (1977-80) may shock some modern readers, not just the vehemence written into the reports but also the lack of counterweight – proposals for system regeneration in the manner of Dr Beeching's Reshaping Britain's Railways.
Beeching, readers will recall, had proposed not just mass closures, but system upgrades for what remained. These would be along German lines, with the main rail corridors upgraded to 160kmh-200kmh standard with fixed frequency expresses between major cities; plus unitised freight. This is largely what happened, especially when the Intercity 125 program of the mid 70s was finally in place.
The Victorian reports did not offer much to counter the overall negative approach to rail.
The response to the Lonie Report, however, showed that the public had moved somewhat against rail closures, much more than the earlier response to Bland.
Lonie had proposed far deeper cuts to passenger services, basically anything not the main Melbourne suburban rail network or the main interstate lines, and a token service to Geelong. The freight network would lose all remaining protections such as route licencing and subsidies.
The public was not pleased, and with a host of other issues that affected a long-running Liberal government, going hard against rail was not going to help their electoral standing. Hamer gave in – a proposal that came to be known as the New Deal for Country Rail that emerged from within the bureaucracy was adopted by the government, and in today's terms it was a substantial capital injection.
Labor could capitalise on this. By reversing a few more of the country rail cutbacks, namely the day services to such places as Dimboola, Cobram, Stony Point and Leongatha, Labor was able to harness the New Deal and the investment that had already been factored in, and paint themselves as pro-rail against the Liberal's anti.
What aspects of the New Deal did Labor in effect hijack to their own ends?
First, the rolling stock that the New Deal envisaged – new sets of N cars, but basically just newly built to the old designs of loco-hauled passenger trains. These were to be hauled by a fleet of rebuilt B and T class locos and a small number of new locos, however, by the time Labor took power, it was found cheaper to build new ones, the N class.

The N class and N set endures to this day, but probably not much longer. It was not really an advance on the trains of the 1930s (except for the locomotive) and certainly little different from the early 1950s.
Additional carriages were created, the H sets, out of suburban Harris cars, and in the end more of these were made than originally envisaged.
This blog has made the point previously, without trashing the merits of the New Deal, it really was not a transformational change, merely an incremental one, one that could have been done decades before.
The technology of the air-conditioned, comfortable carriage was perfected in the 1930s, the diesel locomotive in the 1940s as was the self-propelled air-conditioned car (the Budd RDC, of which the Commonwealth Railways was an early purchaser). And the style of service, offered consistently through the New Deal, could have been delivered in the 1920s.
Freight service did see some effort made to rationalise the service, of thousands of small 4-wheel wagons and small locomotives, as well as the use of integrated rail/road terminals to replace service to the branchlines. This effort was even less transformational than country passenger services, and while the size of locomotive purchased increased to the greater than 3300hp C and G classes, they were concentrated on interstate routes as part of pooled arrangements, and the little locomotives continued for some time.
The closure of the branchlines continued apace.
While a huge swathe had been carved out of the network under the Bolte-Hamer-Thompson government, the ALP continued the hacking. Lost were:
Myrtleford (once Bright)
Maffra route
Welshpool to Yarram
Dookie Katamatatie
Bolagnum
Picola
Goroke and later East Natimuk
Timboon
Coldstream (after the Yarra Glen section had reopened for the tourist railway)
Bendigo East
Cohuna
Wedderburn
Skipton
Yanac
Orbost
Yallourn
Patchewollock
Rushworth and its two branches
Peechelba East
Balranald beyond Moulamein
Morkalla
Nowingi
St Kilda, Port Melbourne and Williamstown Pier extension
An impressive list for a supposedly pro-rail government!
Geoff Cargeeg collection. Probably the most scenic of Cain's closures: Timboon
Finally, the biggest shift in urban passenger services came with the Hamer piece-de-resistance, the City Loop, and the new Comeng airconditioned stock bought to coincide with its opening (though in nowhere sufficient numbers to make any difference). Despite the decline in suburban system patronage, the average journey length had grown and grown, requiring consistency in the overall fleet size, and urgent replacement of the wooden-bodied Tait stock.
The system when Labor took office.
To this, Labor suggested really the only major new proposal for suburban rail, and that was a series of network extensions. While the list was never firm, it included at a minimum:
Ferntree Gully via Rowville (from either the Dandenong line or Glen Waverley)
A Frankston to Dandenong line
A Doncaster line
Reopening from Lilydale to Coldstream
Lines to South Morang, Melton, Craigieburn and Cranbourne.
Of course the sad story about this list is that it was all abandoned at the first hurdle. Most of that list has still not been delivered, excepting the last bullet point, where it would await future governments to deliver.
Labor did deliver a line from Altona to Laverton, which has proven to this day to be almost worse than useless. For many years it actually reduced the quality of service to Werribee, which had just been electrified by the Liberals. The most that can be said of it was it probably saved the Altona line from long term closure.
What went wrong?
In no particular order, this what lead to the poor outcomes under Cain.
No plan to govern
Labor was elected in the middle of a major recession, and despite the Liberal Federal Government running record deficits there was no inclination on their part to grant any of it to Victoria.
Bob Hawke had yet to formalise his run for PM, and while Labor federally looked fairly secure its run for government, it would have been a stretch to imagine John Cain had identified a Labor federal win as a source of possible funds.
It appears Labor had no real plans for government- by which this blog means advanced discussions, debate and design work for any of its proposals, nor any way of funding it. It was one thing to direct the Shepparton day train to continue to Cobram (and fund some minor upgrade work on that line); quite another to fund and develop a new line to Ferntree Gully (the Minister's electorate) or down Frankston-Dandenong Road.
Much of this was laziness on the part of the ALP. They were not trying to win any policy debates, just win government. The lines they proposed to extend were cribbed from the 1969 Melbourne Transportation Study, without any further investigation or updating for over a decade since that report was written. Note the lines proposed in that report included:
the City Loop
Altona – Westona extension
Victoria Park – E Doncaster line
Huntingdale – Ferntree Gully
Dandenong – Frankston
Werribee
Rockbank
Sunbury
Craigieburn
Coldstream
Hastings
Mornington
and therefore did not differ much from the ALP 1982 election platform (and which Cain tried to jazz up at the 1985 election).
PROV copy of the suggested lines in the 1969 Melbourne Metropolitan Transportation Plan.
The City Loop
This blog has maintained for many years that the City Loop is one of the biggest disasters to happen to Victorian Railways – the anti-gift that keeps on taking.
Official photo
It went many, many times over budget, due to industrial action, changes in scope and hyperinflation during the 1970s. Much more than that though, it stole decades worth of potential line upgrade or expansion funding from the system. Yes, it had a small local government funding source through rates, but it needed a levy on the whole of Melbourne, and then some.
They were spending every spare cent on the thing in 1971 when they started, and were still spending every spare cent on it in 1985 when it finished construction.
And that's without thinking how it made some aspects of expanding the system even worse.
The City Loop deserves a good post damning the thing once and for all. For another time.
The Ministers
Crabb and Roper
Steve Crabb deserves his own special place in hell, though his successor "Snappy Tom" Roper is not far off.
Crabb, who as was noted earlier was the member for Ferntree Gully and had the most to gain from a spurious and ill-thought-out plan for a line there, had no love of rail.
No-one is obliged to love rail transport, but if a Premier was going to put a Minister in charge of an ambitious program of construction, one might think having someone enthusiastic about the program might help.
The actual delivery of what was delivered was very half-hearted, and no tears shed evidently at the loss of some of the party's major promises.
The 1985 election was a much harder fight for the ALP, and it is clear why, when a party is so happy to wave goodbye to its earlier promises. They didn't even deliver on half of it, or try to downsize the commitments to something they could afford. They just dumped them!
The 1985 election came down to one seat in the Upper House, and a raffle! This is what happens when you dump your promises.
Snappy Tom was not much different, spending more time on what had become increasing industrial troubles rather than anything positive about the system. By the mid 1980s people were wondering if the whole thing had become too much trouble. The unions (more than one in those days) were on strike every third day. Roper did not seem to be the one with the temperament to mend unions fences, nor was he a communicator with the public. By the 1988 election, rail transport had definitely become a liability for the Cain Government, rather than a selling point.
The bureaucracy was lost in 'administrivia' – renaming itself "The Met" and "Vline"; endless ticketing schemes; promoting third-order issues like marketing and holiday travel – in essence, managing decline.
The system did enjoy a couple of tramway extensions. It is tempting to think these were easier for the government to manage than heavy rail, and with so many of the government Ministers living in North Eastern Melbourne, it is no wonder the tram line to Bundoora and beyond got a lot of attention.
Conversion of the St Kilda and Port Melbourne lines to tramways, as well as originally mooted to Upfield and Sandringham, could have been a selling point for the government with the public: New rolling stock, more frequent services and more accessibility.
Most of the useful things were de-scoped from the project, such as trams with folding steps that could stop at high level platforms; access into Flinders St station; air-conditioning on the trams. Cain handled it badly, so badly that the Cain Government definitely lost skin over the matter. Much of this can be attributed to poor Ministerial leadership by men who had no interest in the portfolio.
The opposition of the day was also able to make mirth. Having themselves delivered their signature project via the City Loop and their New Deal, they had no more interest in rail and switched their focus to lobbying for better roads, using their connections in the media to good effect.
Declining Patronage
It is important to look at the most macro-level factors before looking at the micro-factors of personalities and politics.
At the macro-level, Melbourne was just about finishing its transition from a system that had served a wide range of customers, when car ownership had not been as widespread – to serving a narrow range of customers, those who would never pay the costs of both driving and parking, and endure the congestion on the roads, to reach just one destination: the CBD.
This transition had taken some decades, and only finished when dual-income households had both members working and owning a car. With this in place, the rail system was only attractive to a captive market. The CBD had insufficient parking, and the roads leading to it in peak hour were congested, but this is where the large majority of clerical jobs were.
Melbourne had largely lost inner city blue-collar employment, and was in the process of losing CBD retailing (which would thereafter only service the needs of CBD clerical workers during the day).
The rail system was becoming much more sharply peaked, and the people who experienced the 'worst' of the cost of driving to the CBD lived the furthest from it. Hence the average journey length on the system had grown longer. The government was now having to fund track duplication through Ringwood East and Heathmont, and a third track to Moorabbin (originally Mordialloc) to add some express capacity to the system for these distant commuters.
The token electric service to Pakenham became a lot less token as the Berwick/Narre Warren area became populated – but with no capacity to run the trains faster or more frequently between Dandenong and the city, and unlike NSW with its interurban electric trains, these commuters were stuck with unpleasant suburban stock.
Weston Langford photo: Harris train approaching Hallam, then out in the country, probably 1970s. No interurban fleet existed as in NSW.
But the overall loss of custom was having real impacts on the railway's ability to claim funding for more traffic. There were timetable downgrades during the 1980s with some services eliminated. The St Kilda and Port Melbourne lines were basically targeted because of their lost patronage, and the threats to the Alamein, Upfield and Williamstown lines never looked too far away. Meanwhile, Werribee had been electrified by the Liberals, but the other outer lines like Craigieburn, Cranbourne, Melton and beyond Frankston looked as distant as ever.
The patronage levels did turn around during the 1980s, as the declining rail share intersected with the growing Melbourne population, meaning that even at a lower modal share level, patronage would have to grow at that point. However, it would have to experience at least one more recession, with declining CBD employment, before this pattern of growth would start to imprint itself on the political and bureaucratic classes as something they could no longer ignore.
Road backlog
In fits and starts the Cain Government also had to manage the backlog in freeway and outer-suburban road construction. Australia had been notoriously underdeveloped when it came to highways.
Cain did make progress towards the Sydney-Melbourne Hume Freeway (with Bob Hawke's assistance) as well as roads to Gippsland, Ballarat, Bendigo and Geelong. An urban ring road was started.
For rail enthusiasts who think in 'either-or' terms, they are wrong. Until that point it had been 'neither-nor' as governments had ignored land transport investment for decades. Not that road lobbyists had been shy of advocating their corners – but it did not need that for the outcome we got.
The Liberals in Cain's time switched their interest to roads. See this website.
Some of the obvious sources for funding were scorned. Federal Treasuries had prevented states from borrowing overseas, and tolls had never been accepted or widespread, despite that the public would grudgingly accept them in later years.
Road taxes had not been directed at roads for some time. The Federal Constitution prevented 'earmarking' of funds in this way but it had never been popular at state level either, and Treasuries did their best to scotch any attempts. The reasoning is simple. If an area of government has its own independent funding source, it does not need the scrutiny that Treasury always wants to have over them.
If what later became VicRoads had permission to borrow, build and toll any road it wanted to build independent of government, it might then have freed up funds for rail, which would always need taxpayer contributions.
A Government of Social Workers
Joan Kirner is best remembered for making a joke of social workers – namely: "What is the difference between a Rottweiler and a Social Worker? The Rotty eventually lets go of the baby." But it belies a much more important policy issue within the Cain Government. They wanted to be a party of social reform. Not infrastructure.
During the Cain Government a huge number of reforms to social services, education and law took place, with the de-institutionalisation of mental health and disability services, reforms to second education, corrections and other social fields being the priority. It was a major step forward for the human rights of the public and the education of children; but wasn't all sweetness and light, as large numbers of mental health nurses, disability workers had to be removed from the system and allegations of systemic abuse dealt with.
I doubt the fans of Cain and Kirner would contest this. From John Cain Foundation website, the achievements they cite are:
His Government was responsible for many signature reforms later taken up by other states:
Tobacco control;

Freedom of Information legislation;

Workers compensation;

Liberalised shop trading and liquor laws and other reforms that brought Victoria back to life;

Urban planning policies revitalized the centre of Melbourne expanding it to Southbank and revived the Yarra, creating a network of parks and bike paths;

Major investments were made to modernise schools and revamp year 12 and TAFE to boost participation and jobs skills;

New hospitals were established in the growth corridors and a new focus given the preventative health and tobacco control with the world first establishment of VicHealth;

Regional economies were boosted with growth strategies for centres such as Bendigo, Ballarat, Latrobe Valley and Geelong; and

A Social Justice Strategy was agreed with stakeholders in all sectors of the community and formed the basis for reform of community welfare policies.
No mention of transport infrastructure besides cycle paths!
A good government should be able to walk and chew gum, as they say, and arguably Daniel Andrews, in a the current Labor Government, has done that, instituting a drug injecting room and legalising euthanasia while also removing level crossings. But for some reason Cain was not able to set himself to both a social agenda and an infrastructure plan.
The town of Ararat was not just devastated by its loss of railway jobs, but also the closure or downsizing of mental health and corrections employment within the town. VHD photo
The end of the Cain-Kirner period
Cain and Kirner are remembered mostly for their end, and the sweeping victory of Jeff Kennett (and for rail fans, the cuts he visited on the system).
Early Kennett
At the end only one positive was found: The 7000 series self-propelled cars called Sprinters, that could have made a difference to some of the marginal lines had they been brought in earlier. Proof is the popularity of the Velocity cars that succeeded them. The benefit of the Sprinters was not realised until Kirner was gone.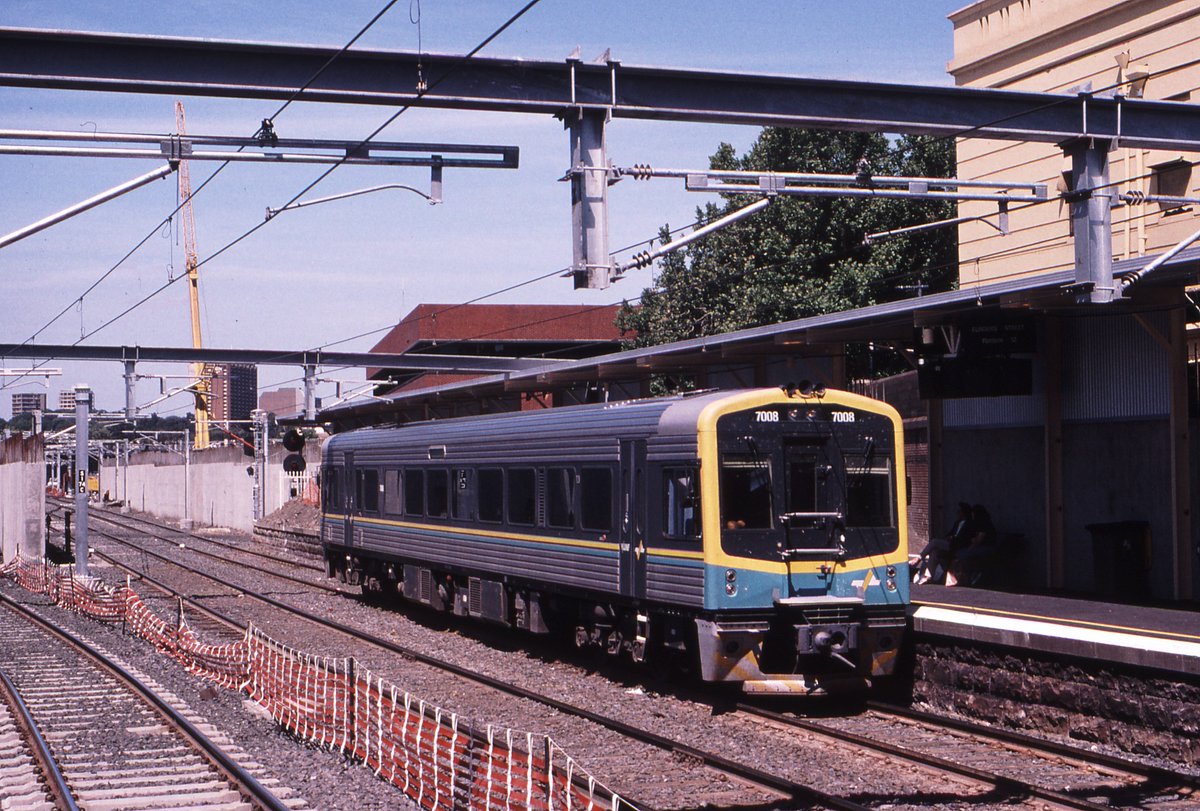 Weston Langford via Metro Trains Twitter feed. Original Sprinter configuration. The single car workings covered a time when demand for country rail was much less than at present.
Much of the world was affected by recession and it was accentuated in Australia by the RBA policy of killing inflation dead by ultra-high interest rates. They did kill inflation, but employment too, and the early 1990s saw the Victorian Government in a precarious economic position, borrowing to pay interest and having to lease out the suburban train fleet to an Austrian bank to pay the salaries.
In this world there was nothing left for Kirner to promise, only to try to clean up the mess as best they could. It wasn't their fault, but intelligent people could ask if they had made the best of the sunshine while it lasted. This blog thinks not.
Official Portrait of Joan Kirner
But it is a bigger picture than just Cain and Kirner. As noted above, the decline had been going for over a century. The New Deal could have been done decades earlier, as could the freight reforms. A more sensible list of suburban rail expansions could have been committed to, and alternatives to the City Loop were possible.