This post is part of a series of posts looking at the need to strengthen the tourist and heritage rail market by ensuring the offerings are much more sustainable and viable than previously.
********************************
One thing this blog has observed in recent years is the number of potential sites for tourist and heritage rail (operating and static) that are "up against it" in the same sorts of ways. Namely:
the lines they wish to retain have been abandoned for many years
the 'glory years' of the 1980s passed them by, when far more resources in the form of volunteer labour from the main rail systems, rolling stock fresh from use, and those lines were in much better condition at that time
many are remote from the capital cities
some may even be on their 'second go round' after an early tourist rail initiative foundered.
An earlier blog post looked at 'para-rail' both as a means of extending existing products, but also helping those 'marginal sites' where full-blown train operation might be too early or not yet economic.
These sites, like some of the ones this post will look at, might have the same factors – remoteness, hard to secure the volunteer labour, and possibly failed previous tourist rail ventures.
Ida Bay's new pedal-powered beast. This line is a long drive from Hobart and will benefit from more economical operation as well as extending the product using a novel vehicle.
But what if the sites really do want a cheap, easy to run and authentic experience using a real train on their tracks?
This is just the thumbnail sketch of an idea that might help.
It comprises three aspects:
The steam locomotive, or diesel
Suitable carriage stock
The paperwork necessary to operate the above.
In truth, number 3. will be the most important of these aspects, and the hardest to secure, yet it cannot be done without looking at points 1. and 2.
It shouldn't need to be said, but probably does:
This blog has only formulated this as an idea. Absent all technical details and real expertise in the field that it would require. Absent of owning any of the assets discussed here, or the funds to buy them. The idea is being launched if only to assist others, who might have the means or effort to enact them.
1. Have Locomotive, Will Travel
The story of Flagg Coal #75 and the Gramling brothers is a simple one. They acquired a small shunting locomotive (and some others) and in this case a small 0-4-0 saddle tank. It has been all over the USA, operating at many sites including heritage rail lines that have no steam locomotive of their own, or commercial rail lines where access has been negotiated.
The Gramlings' locomotive – photo credit as shown
The operation is remarkable in several ways, as the attached videos and links show:
It can comfortably haul a normal rake of carriages, as shown in the video below, at Ashley, Michigan. Clearly not mainline speeds, but such speeds are not called for.
It comfortably fits on a small low-loader, as shown in the car park of the US Trains Magazine publisher Kalmbach (link to video).
The low loader means that operations that are no longer connected to the main rail networks, or cannot use them due to safety and accreditation issues, can still get a locomotive in and out without the major operations that much larger locomotives experience when they move by road.
Being a saddle tank, it is compact with no separate tender, and all water and coal able to be carried on it. With no tender, it can operate in both directions and can, depending on local rules, haul and propel cars, thus avoiding the need for run-around loops or sidings.
Being a small saddle tank, it will definitely be suitable for Thomas-themed events, that railways or communities might wish to schedule.
Flagg Coal Website photo
So what candidate locomotives could be used in Australia?
Australia would require at least five major gauges for such an operation (though in practice the broad gauge [5'3″ or 1600mm] would probably not get such a locomotive as will be discussed further).
610 mm (sugar cane gauge)
762 mm (VR narrow gauge)
1067 mm (Cape Gauge, used in Queensland, WA and some parts of South Australia)
1435 mm (standard gauge, in NSW but potentially now in more of Victoria and in SA)
1600 mm (broad gauge, in Victoria, one line in NSW and in SA)
Many of the sugar cane locomotives were tank locomotives and small.
Bundaberg Fowler 5, Bob Gough photo, roving on a sugar line near Mackay.
Some roving locomotion has occurred in the past, such as the documentary "Bundy's last great adventure", however, the sugar networks are commercial operations and it has not been as common as one could imagine for those lines to have these operations.
It would be good if steam could return to the streets of Nambour, even if temporarily.
There are a number of 610 mm tourist lines around Australia, and the ability to move such small locomotives around is worth considering. For example, in Tasmania, three lines: Ida Bay, Sheffield and Wee Georgie Wood, are operating but only two have had regular steam operation.
Wee Georgie Wood in Tasmania's west. Source website
As the scale increases the effort also does. Puffing Billy and Walhalla Goldfields Rail are the two major 762 mm operators in Australia, and the former has made a name for itself with its NA class tank locomotives. The latter, sadly, has not had access to a steam locomotive except on the celebrated visit of one of PBR's NA class in 2010.
gmes.org.au photo
An earlier incarnation of the Walhalla operation used a gasworks locomotive, now at Puffing Billy (see Robert Smith photo below).
With so few 762 mm operations in Australia, there is little need for this sort of operation, though conceivably the heritage site at Crowes or Beech Forest could benefit from a static steaming or short shunt.
For the 1067mm gauge, the options open up considerably.
Railways and museums in this category that might benefit include:
the Cairns hinterland lines (Herberton/Atherton/Ravenshoe, Forsyth and Normanton areas)
Lines aimed to be operated around Mackay such as this one
In Rockhampton to keep company with the Purrey Steam Tram as well as the parkland/siding at Maryborough.
Any potential resurrection of the defunct operation at Mt Morgan
The promising attempts at Texas, and one that was tried at Allora
Attempts to maintain the operation at Rosewood, within the Toowoomba area (such as Downsteam).
In Broken Hill and Alice Springs. The still available sites on the North Australia Railway.
In Tasmania, being able to deploy small scale, occasional steam to Burnie/Wynyard, to the Scottsdale line, to Hobart, Bridgewater and New Norfolk, at Maydena (where the para-rail operation is).
In WA, where the residual operations of the lines at Boyanup, Pemberton, the jetty railways and on Rottnest Island. On the commercial network where wheat traffic has fallen away such as Hyden.
Link to unknown owner's photo of the Carnavon Jetty Railway, currently not operational.
On the standard gauge network is probably where the most interesting possibilities.
Despite that wave of 1980s enthusiasm having faded, the following sites have shown considerable activity in static preservation or reopening to tourist traffic:
Oberon
Tenterfield
Crookwell
Yass Town
Canberra, Cooma and Bombala
Gundagai, Tumut or Batlow
Ladysmith and Tumbarumba
The Lithgow area, and the Mudgee line
Coal lines in the Hunter Valley
Gundagai Rail Museum, from VisitGundagai website
There are many candidate locomotives, including the small 0-4-0 '10 class' [this designator does not really mean anything, as all sorts of small locomotives for utility functions, including steam cranes, were given this number].
1076 at Goulburn is a good example, there are plenty of these remaining in NSW in different states of repair.
Goulburn Roundhouse Facebook Page photo
The situation on the VR and SAR former broad gauge networks is less rosy.
The two operators who do not customarily use steam locomotives, at Daylesford and Healesville, might welcome the availability of a roving locomotive from time to time, though they might regard this as detracting from their core mission in the former case. Healesville is ultimately expecting a steam locomotive to go into use.
It is speculative whether a roving steam locomotive may also have helped the previous diesel-only operation at Korumburra, having had a visit in the late 1990s by a Steamrail K class but nothing since.
South Australia has one broad gauge operator, having sadly lost two at Wallaroo and Mt Gambier. Neither had steam and having access to it might have sparked some interest in those operations.
The railway station at Burra would also be an interesting location for a static steam-up or short shunt.

Photos from friends of Burra Station FB page
With the disconnection of the Port Dock museum, the Adelaide suburban network also has no preserved locomotion on it.
Candidate locomotives are relatively few. The SAR had tank locomotives and in Victoria the small E class would be the ideal size, however, none are regarded as in suitable condition to restore.
2. Carriages and Wagons
Just as the locomotive must be able to travel on a low-loader, small 4-wheel wagons would make the best option for those operations without their own rolling stock.
Wagons can be rigged with safety railings on the side, and where applicable, a simple canvas roof. Alternatively, the four-wheel guards vans that were popular on some systems and are shown in the Goulburn Roundhouse photo above. The ability to stand outside on the veranda, where safe, enhances the experience.
Richmond Vale museum in NSW uses small tank locomotives, but full size carriages. It previously has used small guards vans for passenger traffic, as this blog can attest first-hand. See the video below, credits as shown on it.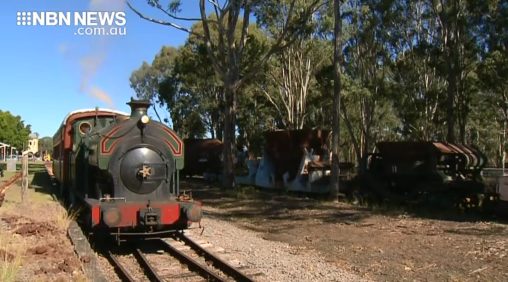 NBN news
3. Safety and Accreditation
Because this would be by far the biggest hurdle, a mechanism would need to be found to have 'template' safety documentation prepared for operators to use.
For example, through the Association of Tourist and Heritage Rail Australia (ATHRA) and its state reps, with government funding and assistance from main line owners and operators. In NSW, the existence of Transport Heritage NSW (a government agency) should also enable this. Government would ideally also assist with insurance, fire safety and other matters beyond the capacities of volunteers.
Each operator would need to be assessed for the quality and safety of its track and passenger infrastructure, while volunteers should be able to be trained in basic management of the passengers. It is assumed the roving locomotive and wagon would come for qualified staff.
Packages should then be able to be sold to local councils and tourism promotion bodies to get these operations in for festival weekends or busy times of year.
Through this mechanism, access to the tourist railway experience could be spread to even more Australians, especially the young, who may be a long way from a mainstream operator, but also gives more localities the opportunity to record and relive their pasts.
Flagg Coal 75 FB page